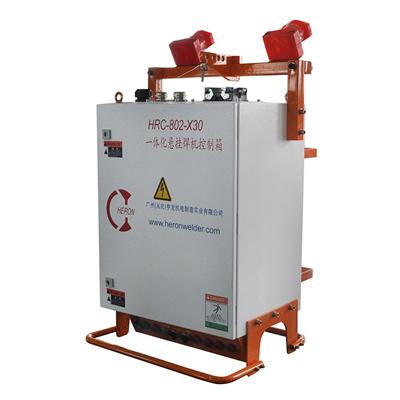 Features
1. The spot welding controller on one cabinet can control one welding gun. If the customer requires, it can also be upgraded to be able to control two welding guns.
2. We use a 10000Hz inverter frequency, thus improving the overall response time of the suspended spot welding controller.
3. The welding current can be set to parameters that gradually increase the compensation, divided into 8 choices for selection.
4. Our spot welding controller is designed with a secondary current automatic calibration system.
5. This controller series supports welding specification connections, and 10 sets of specification connects are available, making it easy to achieve automatic switching of multiple points and specifications.
6. The controllers are designed with an automatic repair welding function.
7. You can individually set grinding pressure.
8. Our spot welding controller is equipped with a welding spot counting function, making it easy to achieve an electrode grinding management.
9. Heron controllers feature unique parameter copying functions, allowing users to copy the welding parameters for different welding equipment with the assistance of a portable programmer.
10. We use an advanced constant current technology and critical current detection system that will automatically alarm when a welding current is beyond the critical range.
11. The controller uses a binary program input method with the ability to store more than 64 different specification sets.
12. Our spot welding controller is equipped with power-off date protection system.
13. The equipment supports group control interlock functions.
14. The deviation between actual welding current and setting welding current can be controlled to within less than ±2% and achieve millisecond control precision.
15. The spot welding controller is equipped with preheating, welding and tempering three-pulses heating functions. The 3 pulses can be independently adjusted, thus achieving a constant current, voltage compensation, optional control angles, ramp up/down and multiple pulses.
16. Our controller can precisely control the spot welding gun to finish clamping, energizing, releasing and stroke-switching functions.
17. When the welding equipment gives the grinding signal, users can easily switch to the grinding pattern (without a current and press-button control pressure), simply by switching on the welder panel. This allows the welding machine to automatically begin the grinding program, and switch to grinding pressure.
Robotic spot welding controller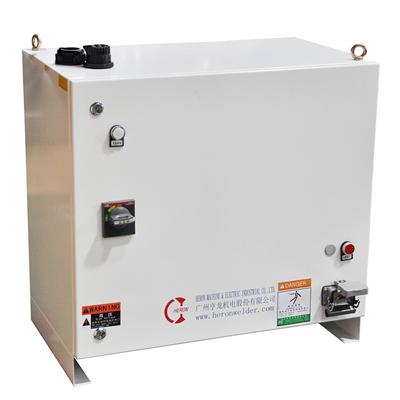 Features
1. We use current control modes with a constant current or constant conduction angle Single welding spots utilize miscellaneous control.
2. The output frequency of the power supply ranges from 1000Hz-2000HZ.
3. Our spot welding controller is equipped with a current automatic calibration system.
4. We have more than 128 sets of welding specifications for customers to choose from, including usage both indoors and outdoors.
5. The output voltage of the proportional valve ranges between 0-10V.
6. The welding time ranges from 0~2000ms.
7. Our controller is designed with five grade welding currents, with each grade independently adjustable. These grades include pre-welding, ramping up, welding 1, welding 2, welding 3, ramping down and tempering. The welding 2 of the welding current can be set to at most, 9 pulses. The welding 1, welding 2, welding 3 of the welding current in each welding specification includes an independent welding current monitoring system.
8. We offer welding pressure automatic calibration systems and programmable pressure control systems, allowing users to set the welding pressure to stepwise pressure or saddle-shaped pressure using a proportional valve. Users can also choose two types of pressure setting models- a percentage model or the KN model. For both, there is a need to pre-calibrate the welding pressure.
9. Our machine is equipped with automatic repair welding functions, meaning it will automatically perform repair welding when the welding current exceeds set values. Users can also set repeated repair welding processes.
10. Our controller is equipped with three communication interfaces: RS232 (Modbus RTU agreement), RS485 (Modbus RTU agreement), and CAN (DeviceNet agreement), in order to ensure convenient data transmission.
Stationary spot welding controller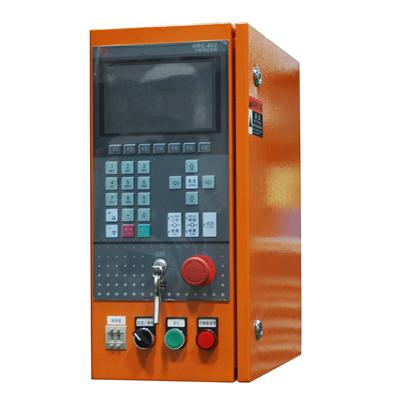 Features
1. The HRC802 controller supports U disk program upgrading functions. We supply the upgrade program free of charge, so that customers receive the newest product functions and value added service.
2. The HRC802 inverter controller can control short cut welding currents within a precision of 3% when compared to the setting value of the current. Short cut current repeat precision is even better, at 2%. The precision will be different with different welding parts, welding time, and set welding currents. Generally speaking, the actual welding current precision is within 3%, except in special cases. Additionally, if there are sparks in the welding process, the current precision will decrease.
3. In the projection welding process, the welding current in the controller will quickly increase, with the speed the fastest out of any of our equipment. For example, if the setting current of a 220KVA welding machine is 20KA, the increasing time of the welding current is about 3ms. If the setting current is 10KA, the increasing time is about 2ms. If the setting current is 30KA, the increasing time is about 4ms. The same holds true for other equipment that operates in the same manner.
4. Our controller has monitor function of three grade welding current and once welding current is beyond setting range, the controller will give alarm signal. HRC802 controller can measure the welding current precisely when the mainboard and hardware and calibration is normal working.
5. The mainboard on the HRC802 controller supports proportional valve functions as well as achieves automatic control of the welding pressure without adding a PLC. There are 3 pressure setting models to choose from: the percentage model, KN model and LbF model. When choosing the latter two, users need to perform pressure calibration using a pressure gauge.
6. This controller is equipped with current increase, electrode grinding and replacement functions. It is also designed with a complete counting system, in order to achieve counting of single section welding spots, output per shift, total production number and total welding spots without the need for an external counter. The system also features solder skips and an excessive welding alarm for single workpieces.
7. Our controller can do a real time display of the current curve after welding, which assists in analyzing and finding welding quality problems.
8. The spot welding controller is equipped with 20 digital signal inputs and 20 digital signal outputs with various external interfaces to meet a variety of customer requirements.
9. The HRC802 controller provides one RS485 communication interface and supports windows software to view and modify the controller parameter, which is beneficial for accurate workshop information management.
Heron is engaged in making resistance welding system, is an experienced suspended spot welding controller manufacturer and welding solution provider. Since 1997 we have been offering wide range of resistance spot welding machines, resistance projection welding machines and welding equipment components for global customers.